TRAVEL AND HOTEL INFORMATION
Pentagon - Sheraton National Hotel
900 South Orme Street · Arlington, VA 22204
Room Rate:
Our special room rate at the Sheraton National is at the prevailing government rate. We have a limited number of rooms at this rate and they sell out quickly.
Be sure to mention you are with the Government Customer Support Conference when making your reservation to ensure you receive our special room rate of $224 per night.
(Note: Room rates are quoted exclusive of applicable state and local taxes or applicable service, or hotel specific fees in effect at the Hotel at the time of the meeting.)
Please call the toll free reservation number at 800-325-3535 to make your reservations today
.
Transportation to and from the Sheraton National:
Enjoy the hotel's complimentary shuttle service - running every 30 minutes to and from the Ronald Reagan National Airport (DCA) and the Pentagon City Mall Metro.

There are taxis, rental cars, the Metro and the shuttle to get you between the hotel and the Reagan airport. The driving directions are posted on the Sheraton National website.
Amenities & Guest Services:
Visit the Sheraton Nationals website for in-depth sleeping room information.
The other features offered at the hotel can be found on their website.
Meeting Rooms:
Our primary meeting / general session room will be located on the 15th Floor. This will be our central point for the entire conference.
We are here to make your experience a positive and memorable one. It is very important to have our meeting space in close vicinity. It helps to form a sense of GCSC community by increasing your networking opportunities and affording more time together between the sessions.
Bring Your Family:
The Sheraton National is just steps from shopping, dining and entertainment. You are also just a few miles and a metro rail train ride from Washington DC attractions, businesses and museums. We encourage you to bring your family and share this one of a kind historical experience with the ones you love.
Attractions:
Some of the exciting attractions near the Sheraton National include:
Market Square - In 1749 these two half-acre lots were reserved for a marketplace and town hall. The Saturday Farmers' Market is the oldest in the country.

Robert E. Lee Boyhood Home – Confederate General Robert E. Lee spent most of his boyhood years in the elegant mansion situated in Old Town Alexandria. The mansion is furnished with authentic period pieces and was the site of many visits by George Washington. For more information visit - leeboyhoodhome.com

Arlington National Cemetery – Take this opportunity to remember and honor our nation's war heroes. For information on the ceremonies taking place at the cemetery please visit www.arlingtoncemetery.org/ceremonies/index.html

The Memorials – Lincoln, Jefferson, WW II, Vietnam Veterans, and Washington Monument – Each memorial is awe inspiring in many ways. It is an honor and a privilege to be able to view these immense dedications to our war heroes and Presidents.

The Smithsonian Institute – Visit the Smithsonian Institute's Website at www.si.edu/museums for all the museums that you can visit. There are a number to choose from!

National Zoo – Admission to the National Zoo is free! There is a charge for parking. The zoo is a 163-acre zoological park set amid Rock Creek National Park in the heart of Washington, D.C. You can visit the Zoo 364 days a year to see more than 2,400 individual animals of 400 different species. For more information, please visit nationalzoo.si.edu.
Hotel Accommodations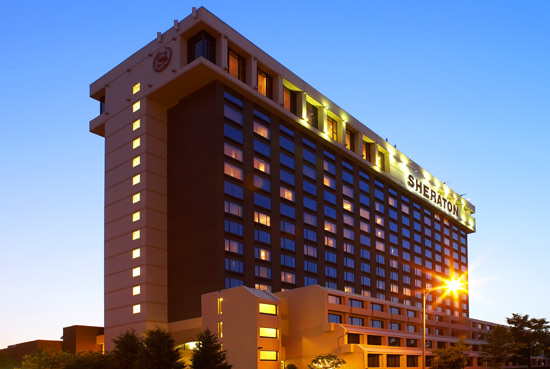 Sheraton National

Lobby

Guest Room

Main Entry

Pool with a stunning view

Potomac Restaurant